featured
Ordenador de control ambiental para avicultura ChoreTime CT-36 Alerta
A product of MAKER FARMS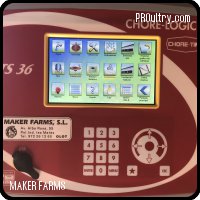 Ordenador de Control Ambiental integral. Ajustes horarios e intensidad de la luz, efecto amanecer y atardecer calendarizables. Recogida de datos a PC o a la nube. Integración con básculas de pesaje. Control integral de repartos y consumos de agua y pienso. Contador de huevos.
Control de Ventilación – 5 etapas
Ventilación de Mínimos
Ventilación Transversal
Ventilación Transitoria
Ventilación Natural
Ventilación Tunel
Control completo de pienso
Control espiral
Control dosificación exacta por día, hora o minutos
Control línea comedero
Pesaje del silo
Restricción de pienso
Alimentación separada en machos y hembras
Combinación de pienso
Product Photos Ordenador de control ambiental para avicultura ChoreTime CT-36 of MAKER FARMS

4 Photos
Product Catalog

Related categories Ordenador de control ambiental para avicultura ChoreTime CT-36
1 Category
Farm computers
Other products of MAKER FARMS
15 productos
MAKER FARMS

Maker Farms es una empresa especializada en el diseño, concepción y montaje de instalaciones avícolas, ganaderas y de cercas que ha sabido rodearse de las mejores marcas y proveedores del mercado para conseguir, con una experiencia de más de 25 años, llevar a cabo las más rentables instalaciones tanto en el sector ganadero como industrial.
Desde el año 2003 Maker Farms también está presente en el sector de la incubación, con la posibilidad de desarrollar proyectos completos de salas de incubación, desde las incubadoras y nacedoras, hasta todos los equipos e instalaciones necesarios para el total funcionamiento de la sala..
See company
Price and product availability