featured
Generador de aire caliente GFn Alerta
A product of MUNTERS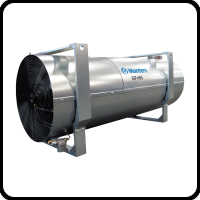 CALEFACTORES DE COMBUSTIÓN INDIRECTA
En agricultura y
ganadería
el entorno climático ideal es esencial, ya que influye en la productividad y la salud del ganado y en el crecimiento de las plantas.
Concebido para aplicaciones en agricultura y ganadería, por ej. granjas avícolas e invernaderos
Diseño único del bastidor, facilita su manipulación, transporte e instalación
Diseño ergonómico, garantiza un cómodo mantenimiento y la plena accesibilidad
Envolventes IP55 de los componentes críticos, por ej. caja/centralita eléctrica, motor eléctrico
Preparado con un enchufe de 5 polos para farm controller o termostato de ambiente
Resistente a la corrosión, los componentes de la carrocería tienen la protección Munters Protect o acero inoxidable AISI 430 y la cámara de combustión es de acero inox AISI 430
Diseño seguro con célula fotoeléctrica para el control de la llama y termostato para el sobre-calientamiento (interruptor de flujo de aire no necesario)
Ideal para una amplia variedad de combustibles, o sea gasóleo (no biodiesel) o diesel de invierno
Product Videos
1 video
Related categories Generador de aire caliente GFn
1 Category
Heating facilities
Other products of MUNTERS
12 productos
MUNTERS

Munters develops and manufactures energy efficient climate control systems for the growth and development of agricultural applications.
By providing the perfect climate, our solutions enable farms to operate and produce under optimum conditions. The innovative product range includes ventilation, evaporative cooling, heating and controls systems.
Munters Agriculture climate control systems comprise broilers, layers, swine/hogs and dairy applications and aim to increase productivity, health and welfare of the animals in these intensive farming applications, always with the lowest total cost of ownership possible for the farmers. Total cost of ownership is signified by the entire system operating cost such as energy consumption, maintenance cost and product life cycle.
Munters is aware of the challenges faced in livestock production and how the climate affects broiler, layer, swine (hog), and dairy farms.
Livestock farms face problems such as heat stress, inefficient feed conversion...
See company
Price and product availability