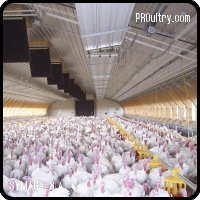 Proyecto Completo de Pavos GROWKET, Symaga Group.
GROWKET, Symaga Group, tras la integración de PAL Industries, ofrece proyectos completos para naves de engorde de pavos.
Para las líneas de comederos disponemos de 3 tipos de platos para pavos, en función de la edad del animal: Star C , Star H y Star F, diseñados teniendo en cuenta su comportamiento y fase. Star C es ideal para el inicio y hasta la 5ª semana, su cono impide la entrada de las aves. Star H permite el engorde eficiente de la hembra. Star F es más robusto, se puede suministrar con una tubo de transporte opcional de 60 mm; la altura de la cubierta está especialmente calculada, para evitar lesiones en la cabeza y desperdicio de alimento.
GROWKET, Symaga Group incorpora a su línea de producto el bebedero de pavo, con el estudio previo de todas las opciones del mercado, tanto en inicio como en engorde, teniendo en cuenta que el pavo, requiere de gran cantidad de agua para su conversión.
El sistema de agua para pavos está formado por: Un kit hidráulico que asegure la calidad del agua, a través del principio básico del filtrado. Tramos de tubería de 3m de longitud con bebederos adecuados a la fase de crecimiento y recuperadores reforzados con acero inoxidable; y un regulador de presión con tubo de respiración.
GROWKET, Symaga Group considera el péndulo un mecanismo fundamental, para facilitar el acceso al agua. El péndulo consigue accionar la tetina de gran caudal con un simple desplazamiento lateral. Este movimiento, asegura que en el recuperador, siempre haya un caudal de agua adecuado. Cuando el pavo deja de beber, el péndulo vuelve a su posición inicial deteniendo el flujo de agua. En los primeros días de crianza, los pavitos serán ayudados en su aprendizaje, con una bola que flota en el recuperador y que ayuda a accionar y detener el péndulo.
Durante estos últimos años se ha avanzado, con el objetivo final de satisfacer todas las necesidades del mercado del pavo dentro y fuera de España. Nuestros estudios de I + D y el departamento técnico hacen seguimiento de todos los proyectos, para adaptarlos a cada productor. Nuestra misión es facilitar el trabajo y lograr altos índices de conversión en las granjas modernas.
Related categories PROYECTO COMPLETO DE PAVOS
1 Category
"Turn key" projects
Other products of SYMAGA
10 productos
SYMAGA

Philosophy and Structure
Symaga  was created in 1985 by Alfonso Garrido to manufacture of silos and components for poultry and pig farming. Currently, it is a multinational belonging to the Garrido family and the company exports to over 120 countries.
The company philosophy is based on customer satisfaction, manufacturing and marketing quality products.
For this purpose, Symaga has constantly invested in technology to modernize the factory, now fully automated. This allows us to manufacture products of standardized quality, offer good value for money, control the entire production process and offer faster delivery times.
Structure
We offer a  global service through our 4 divisions:
-Silos: specialized in the design, manufacture and marketing of metal silos for storage.
-Livestock equipment: offering a "turnkey" solution for livestock projects.
-Agricultural equipment: manufacturing metal water tanks and vineyard equipment.
-Steel works: for steel and plastic...
See company
Price and product availability