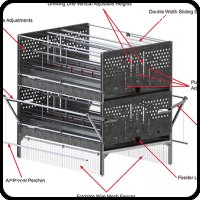 Sistema de crianza VOLUTION de CHORE-TIME VOLITO​™

Entrénelos como un Pro™. Dele a sus reproductoras en crianza la mejor preparación para cualquier ambiente libre de jaulas al entrenarlas sistemáticamente para que se muevan alrededor del aviario desde el primer día.
Años de experiencia han demostrado que las aves mejor entrenadas tendrán vidas más largas, saludables y productivas. Aquí es donde Chore-Time ofrece una gran ventaja para los productores. Nuestros sistemas de crianza VOLUTION requieren menos mano de obra y son más fáciles de manejar que otros sistemas de la competencia. Atiende el comportamiento natural de las aves entrenando a las reproductoras en crianza para que salten, se muevan y se posen desde el primer día, preparándolas óptimamente para los sistemas aviarios y para la producción en el piso de la ponedora.
Diseño ahorrador de mano de obra
Todos los aspectos del sistema VOLUTION están diseñados para tener requisitos mínimos de mano de obra.
Se reduce la mano de obra para el manejo de las aves, ayudando a reducir los costos de producción.
Puertas deslizantes dobles
Las puertas deslizantes dobles únicas permiten que los trabajadores alcancen fácilmente las aves para su vacunación.
Ofrecen confinamiento seguro para las reproductoras en crianza durante la fase de inicio.
Diseño altamente ajustable
Las plataformas de altura ajustable y las líneas de bebedero dentro del sistema se ajustan para elevarse a medida que crecen las reproductoras en crianza.
Perchas prolongables ayudan a que las aves tengan acceso al nivel superior.
Cercas de malla de alambre
Cercas de malla de alambre plegables que manejan el acceso para las aves debajo de las hileras.
Las cercas se pueden abrir para darle acceso completo a las aves a toda el área de piso del galpón, incluyendo el espacio debajo de las hileras del sistema.
Disposición flexible
Sistema de dos niveles.
Divisiones en longitud y ancho dentro del sistema.
Líneas de comederos y bebederos en todos los niveles.
Una o varias filas del sistema de crianza en la granja.
Excelente visibilidad para la fácil inspección.
Product Photos Aviarios de recría CHORE-TIME sistema VOLUTION de VOLITO™ of PEIG GANADERA SL

1 Photo
Product Catalog

Product Videos
1 video
Related categories Aviarios de recría CHORE-TIME sistema VOLUTION de VOLITO™
1 Category
Aviaries for rearing future laying hens
Drinkers
Feeders
"Turn key" projects
Bulk feed tanks
Poultry software
Feed transport
Automatic and manual windows
Ventilation material
Related Products
1 Product
Other products of PEIG GANADERA SL
1 producto
PEIG GANADERA SL

PEIG GANADERA, S. L. es una empresa familiar de ingeniería especializada en la ejecución y construcción de proyectos aplicados al sector de producción animal, producción vegetal y agroalimentario que cuenta con importantes recursos técnicos, humanos y financieros, ocupando una sólida posición en el mercado.
Desde nuestros inicios, en 1998, mantenemos un compromiso integral de orientación al cliente, un innegable afán de superación y una búsqueda constante de excelencia empresarial.
La compañía cuenta con equipos profesionales jóvenes, dinámicos y altamente cualificados y cohesionados, que mantienen una dedicada apuesta por la innovación, la calidad, la seguridad laboral, el respeto al medio ambiente y la sostenibilidad, así como la ilusión de participar en un proyecto empresarial sólido y en constante expansión.
Las constantes muestras de confianza que nos ofrecen nuestros clientes día a día, nos hace pensar que avanzamos en la...
See company
Price and product availability