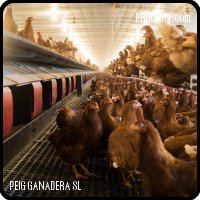 Nido para gallinas reproductoras VOLITO™ VALEGO
El nido VALEGO cuenta con un diseño comprobado que fomenta un entorno estable, tranquilo, limpio y espacioso para que crezcan las gallinas reproductoras. No solo promueve el desarrollo de mejores aves reproductoras, sino que, junto con el sistema patentado RDE, ofrece una protección superior de los huevos, desplazando a TODAS las aves. Además, cuando se utilizan en combinación con los innovadores sistemas de alimentación, bebederos y climatización de Chore-Time, los nidos VALEGO se convierten en la solución ideal para la producción de huevos para incubar.
Sistema de expulsión de propulsor de cremallera (RDE)
El sistema patentado de expulsión de propulsor de cremallera (RDE) de Chore-Time ofrece una protección superior de los huevos, lo que permite que un mayor porcentaje de huevos llegue a la cinta con seguridad, en comparación con los sistemas de elevación. Esto se debe a que los sistemas RDE apartan delicadamente a la gallina del huevo, al tiempo que ayudan a que este llegue a la cinta. Con los sistemas de elevación, si los huevos no ruedan de forma natural hasta la cinta, se desperdician en cuanto el mecanismo se eleva. Además, los sistemas RDE disminuyen significativamente la necesidad de mano de obra, lo que contribuye a la reducción de los costes de producción.
Estructura de madera contrachapada con película de revestimiento
Las paredes y tejados están hechos de madera contrachapada de primera calidad y sumamente resistente, con una película de revestimiento, que proporciona un entorno estable y tranquilo para las aves, más fácil de limpiar y más resistente que las estructuras de plástico o acero. Su capacidad para disipar rápidamente la humedad también lo convierte en el material ideal para su uso en los sistemas de nidos.
Sistema Smart «Click & Fix»
Los nidos VALEGO cuentan con paredes y tejados montados con el sistema Smart «Click & Fix», que simplifica su instalación y mantenimiento. Su montaje solo requiere herramientas comunes.
Láminas
Las láminas de plástico cuentan con un diseño probado y son muy fáciles de mantener.
Recogida y control de los huevos
Las cintas, el expulsor y los controles de Volito conforman un sistema completo de recogida de huevos que garantiza la seguridad del huevo en todo el recorrido, desde la gallina a la mesa de recogida. La unidad de control programa la apertura y cierre diarios del expulsor para optimizar el periodo durante el que las gallinas tienen acceso a los nidos. El control también pone en marcha un ligero movimiento del expulsor durante la recogida de los huevos, lo que permite a las aves quedarse en los nidos, al tiempo que evita que dañen accidentalmente los huevos.
Product Photos Nidos CHORE-TIME para gallinas reproductoras VOLITO™ VALEGO of PEIG GANADERA SL

1 Photo
Product Catalog

Product Videos
1 video
Related categories Nidos CHORE-TIME para gallinas reproductoras VOLITO™ VALEGO
1 Category
Drinkers
Feeders
Layer farms
Poultry buildings
Nest boxes
"Turn key" projects
Slats
Related Products
1 Product
Other products of PEIG GANADERA SL
1 producto
Product Website
https://peigganadera.com/avicola/
PEIG GANADERA SL

PEIG GANADERA, S. L. es una empresa familiar de ingeniería especializada en la ejecución y construcción de proyectos aplicados al sector de producción animal, producción vegetal y agroalimentario que cuenta con importantes recursos técnicos, humanos y financieros, ocupando una sólida posición en el mercado.
Desde nuestros inicios, en 1998, mantenemos un compromiso integral de orientación al cliente, un innegable afán de superación y una búsqueda constante de excelencia empresarial.
La compañía cuenta con equipos profesionales jóvenes, dinámicos y altamente cualificados y cohesionados, que mantienen una dedicada apuesta por la innovación, la calidad, la seguridad laboral, el respeto al medio ambiente y la sostenibilidad, así como la ilusión de participar en un proyecto empresarial sólido y en constante expansión.
Las constantes muestras de confianza que nos ofrecen nuestros clientes día a día, nos hace pensar que avanzamos en la...
See company
Price and product availability