Sterile devices for gathering samples
1 Product and 3 companies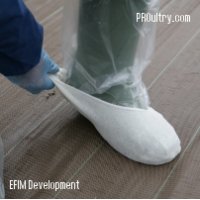 • Eficaz - Muestra representativa y objetiva de la superficie controlada - Excelente recogida de materias fecales - Restitución rápida en medio de pre-enriquecimiento • Muy cómodo - Fácil de poner: amplia abertura con goma de sujeción - Es posible calzar 5 calzas sobre bota tamaño 45 + cubrebota • Húmedo listo...
Bio Trends Ibérica S.L. was born as the Prevención Bio Ambiental, S.L. commercial division to commercialize and distribute the products under the PBA trademark. Prevención Bio Ambiental, S.L. has been present in the market for more than 35 years, whose hallmark is the development and production of environmentally friendly biocides....
EFIM es el Distribuidor oficial de los productos Sodibox para España. Sodibox es una empresa especializada en material para la recogida de muestras biológicas. La gama es muy amplía, desde sistemas de transporte para la sangre y orina hasta sistemas exclusivos y patentados para el muestreo biológico. Los productos Sodibox son líderes en Europa.
Equipos e instrumentos de medicion. Balanzas para peso de aves VEIT, termómetros, higrómetros e instrumentos de medición TESTO. Servicio de Calibración. Manómetros, durabilímetros, básculas, equipamento para laboratorio.