Hatching eggs for broilers
1 Product and 1 company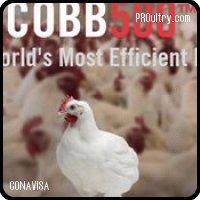 BREED: ROSS 308 and COBB 500 EXCELLENT HATCHABILITY IN APPROPRIATE MANAGING CONDITIONS
Our business, CONAVISA, COORDINADORA AVICOLA, SA (POULTRY COORDINATOR), devoted to this activity since 1948, has increased its efforts year after year, reaching a privileged situation in the poultry market, being recognized for its prestige and reliability, having taken part in the most distinguished areas of the poultry sector, becoming the leading company in the day-old chicks and hatching eggs sales.
Our history begins more than 45 years ago, in 1974, and since then we have dedicated ourselves to providing global solutions for animal health and welfare, with nutritional products, special raw materials, ingredients and additives for animal nutrition, drug premixes and pharmacological specialties. For years these products have been part of our...
Bio Trends Ibérica S.L. was born as the Prevención Bio Ambiental, S.L. commercial division to commercialize and distribute the products under the PBA trademark. Prevención Bio Ambiental, S.L. has been present in the market for more than 35 years, whose hallmark is the development and production of environmentally friendly biocides....