Ultrasound generators
1 Product and 1 company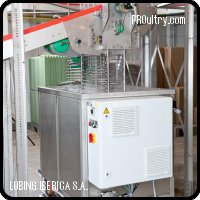 La unidad de limpieza por ultrasonidos, está diseñada para la limpieza de cadenas de transportadores de huevos. Los elementos se limpian con la combinación de impulsos ultrasónicos y un baño de agua caliente a 80 ºC con un producto de limpieza. Es posible integrar éste equipo sobre una transportadora ya existente. Utilizamos entonces una unidad de desviación. para que...
Equipos, maquinaria y tecnología para la industria ganadera. Bebederos, comederos, dosificadores, medicación, silos, slats, para gallinas Broilers y del Prat, pavos, patos grasos, perdices, ovejas, cerdos, vacas, caballos. Especialista en material para la ganadería: bebederos automáticos avicultura, cerdos, conejos, tratamiento de agua, nebulización, sistema pad cooling, transportadores de...
We take pride that Harsonic®  is the undisputed leader in a mechanical system to remove biofilm and prevent all kind of fouling. Good customer service is the lifeblood of our company. We never make promises we can't keep. The company Harsonic®  is located in Belgium and has more than 25 years experience in water treatment,  always in...