Stock level detector in silos
1 Product and 3 companies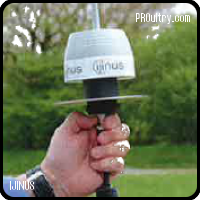 A sensor that measures the feed levels in silos. At real-time by acoustic imaging. Energy-independent.
EXPERIENCE CTIcontrol is an engineering company with more than 18 years of experience in the design, development and distribution of climatic controllers for farms and industrial farming. Our experience is based in the constant improvement of our products and to adapt them to the sector needs in order to satisfy our customers. LEADER CTIcontrol...
IJINUS is a manufacturer instrumentation, process control and metrology wireless remote management and remote monitoring. Our offer is composed of sensors, recorders, overflow sensor, transmitters and other communication interfaces and supervision. Performance, miniaturization, ease of installation, use and transmission of multi-protocol data are part of our commitments.
Equipos e instrumentos de medicion. Balanzas para peso de aves VEIT, termómetros, higrómetros e instrumentos de medición TESTO. Servicio de Calibración. Manómetros, durabilímetros, básculas, equipamento para laboratorio.