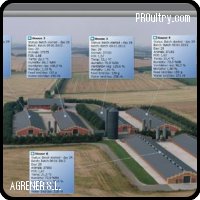 Overview yields profit
As the scale of poultry production grows, so the need for an overview and the ability to control many houses from one central place increases accordingly. SKOV's farm management system FarmOnline® is for those who wish to have the greatest possible output from your production site and to know the status in the livestock house around the clock.

Product Catalog

Related categories FarmOnline®
1 Category
Poultry software
Other products of AGRENER S.L.
9 productos
Product Website
http://skov.com/es/poultry/Paginas/FarmManagement.aspx
http://skov.com/en/poultry/Pages/FarmManagement.aspx
AGRENER S.L.

Ofrecemos soluciones completas para la climatización de naves de producción ganadera para la completa satisfacción del cliente.
AGRENER SL. se funda en 1987 con el fin de introducir nuevas tecnologías en el sector de la producción animal intensiva.
Desde entonces en AGRENER nos dedicamos de forma casi exclusiva a la climatización de explotaciones para la producción ganadera logrando importantes resultados en productividad debido al rápido crecimiento, mejora en la conversión alimenticia y disminución en decomisos.
Desde nuestros inicios hemos cooperado intensamente con la empresa danesa SKOV A/S, líder en el sector de la climatización para ganadería, así como, en el control de la producción (Pesaje de silos, Pienso y Animales).
Iniciamos el desarrollo de sistemas de climatización a mediados de 1987 en diferentes granjas de producción en toda España. Por tanto, la experiencia adquirida desde entonces nos avala para ofrecer al cliente las soluciones más avanzadas, más rentables, y adaptando...
See company
Price and product availability