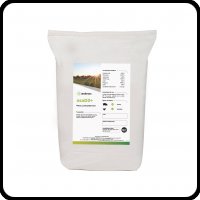 Panbonis
Panbonis enables birds to improve calcium and phosphorous uptake, enhancing animal welfare by improving healthy bone development, feed efficiency and egg shell quality.
Panbonis' unique bound form of calcitriol for broliers and layers works in the intestine, kidney and skeleton to address poor calcification and assist output quality.
What are the benefits to the producer?
Improves weight gain and feed conversion
Prevents cage layer fatigue
Reduces skeletal problems
Modulates immune system by vitamin D receptors
Reduces phosphate output
Improves shell quality and reduces broken egg losses
Better uniformity and fewer reprocessing rejects and downgrades
Improved hatchability
How is Panbonis used?
Dosage recommendations:
Can be added on top of standard levels of vitamin D3
Include at rates of 50-150 mg/kg of finished feed
Product Videos
1 video
Related categories PANBONIS & asaD3+
1 Category
Vitamin and mineral supplements
Egg quality improvers
Diet digestion improvers
Minerals
Poultry nutraceuticals
Water and fat soluble vitamins
Related Products
1 Product
Other products of ANDERSEN, S.A.
1 producto
ANDERSEN, S.A.

Our history begins more than 45 years ago, in 1974, and since then we have dedicated ourselves to providing global solutions for animal health and welfare, with nutritional products, special raw materials, ingredients and additives for animal nutrition, drug premixes and pharmacological specialties. For years these products have been part of our offer and Andersen has always been an innovative actor in the animal production sector. However, our holistic wellness philosophy leads us to repositioning and specializing in nutrition, focusing on them to achieve improvements in favor of animal welfare and for our business partners.
 
This repositioning consists in the total commitment to animal welfare understood as nutrition and disease prevention, and the use of products based on natural ingredients and additives that allow visibly healthier animal and guarantees the maximization of the economic performance of our customers.
See company
Price and product availability