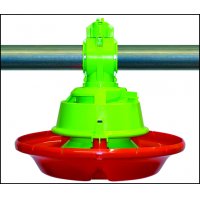 Pratika Feed Pan
THE MOST INNOVATIVE FEED PAN ON THE MARKET
Automatic opening
1 second to open the line
Easy washing of all any components
Automatic feed level setting from chick to adult phase
Lower bottom pan from one-day old to slaughtering age
Fast removal from the feeding pipe
Handy sliding closer
Suitable for the main tube diameters.
CHEAP PRICE
THE FULLY AUTOMATIC BROILER FEED PAN USED IN CAGES AND ON THE FLOOR
The bottom pans can be opened simultaneously in one second or individually with a simple CLICK-CLACK.
The bottom pan design allows for optimal feed distribution whilst minimising feed selection and wastage.
The PRATIKA has 6 feed level adjustments, is easy to install and will fit all diameters of tube.
Product Videos
1 video
Related categories Pratika Feed Pan
1 Category
Feeders
Related Products
1 Product
Other products of AZA INTERNATIONAL
1 producto
AZA INTERNATIONAL

OVER 50 YEARS SERVICE TO MODERN ANIMAL HUSBANDRY
AZA INTERNATIONAL was founded towards the end of the 1950′s to manufacture automatic conveying systems for animal feeds.
Our story runs parallel with that of animal husbandry.
Our inventions and products have marked, all over the world, the fundamental moments of evolution in the animal husbandry field.
More than 400 patents have allowed AZA INTERNATIONAL to win several national and international awards, confirming our successes.
The historical patent proving how Mr. Camillo Pirovano, chairman of the company, invented the innovative cable feeding system in 1961.
This new revolutionary system consisted of moulding plastic discs onto a steel cable winch, running in a tube, conveyed the materials between the discs quickly and noiselessly.
The cable feeding system confirms the success of one revolutionary product that has encouraged the development of modern animal husbandry and is still used nowadays on most farms.
The present...
See company
Price and product availability