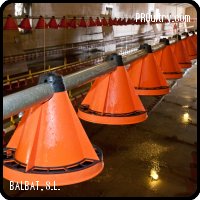 Tolva PAT fabricada y patentada por Balbat, destinada a codornices, perdices, faisanes i aves de caza menor
Plato de polipropileno de 29 cm de diámetro y 260 mm de altura, con un peso de 0,535kg.
Cono, con tampón desmontable.
Capacidad para 300 codornices, con peso total de la tolva más el pienso, de 2,645kg.
Ventajas de la crianza de codornices en el suelo, sin jaulas
La carne es más compacta y de calidad superior, sin moratones, pues las aves no reciben golpes entre ellas ya que tienen más espacio entre sí a la hora de convivir.
Disminuye el estrés de las aves
Disminuye el ratio de mortalidad de las crías
Las alas no se rompen con tanta facilidad.
La mayoría de mataderos aceptan, solamente, carne de codorniz criada con libertad en suelo, acogiéndose a la
Normativa del Bienestar Animal establecida por la Organización Mundial de la Salud Animal
Product Catalog

Related categories TOLVA PAT-Codornices-
1 Category
Feeders
Other products of BALBAT
11 productos
BALBAT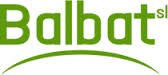 Balbat is a company engaged in the manufacture, marketing, sale and installation of materials for poultry and livestock.
Our headquarter is located in the province of Lleida (Spain), known for its farming traditions, its fruit, its olive trees and grain fields composed a rich and varied landscape.
"At the same time the farms that are scattered around the field explains the visitor that he is in a land of strong people, accustomed to hard work and long hours, in a "mainland" that exists in deep of Catalonia"
In this context BALBAT S.L. is born in the early 90s in order to offer a comprehensive service to all farmers who entrust us with the installation of their poultry farm offering our " know how", our professionalism and our many years of post- sale service .
The teams feeders and drinkers are among the most advanced of the market with exceptional quality and fully guaranteed .
We are specialized in quail, for this reason we have decided to go for the design of our own exclusive hopper...
See company
Price and product availability