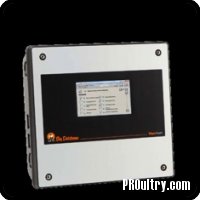 La nueva experiencia de confort, velocidad y rendimiento.
ViperTouch
se caracteriza por una pantalla gráfica de gran tamaño a color, en la que todas las funciones se pueden leer fácilmente. Los símbolos utilizados en los menús principales son fáciles de interpretar y garantizan un funcionamiento muy sencillo. Por defecto, el equipo se entrega en los idiomas alemán e inglés. Sin embargo hay disponibles más de 16 idiomas diferentes, incluyendo rumano, danés, ruso, español, chino, tailandés ... Con la ayuda de una memoria USB, se pueden guardar los datos y la configuración
(backup) o instalar programas nuevos fácilmente. Si el equipo básico no es suficiente, se puede extender con un bloque de ampliación. En este dispositivo se pueden instalar de 10 a 40 módulos de relé adicionales con o sin control manual, como a menudo se requiere, por ejemplo, en el mercado americano. Además, hay disponibles módulos de relé capaces de conectar directamente ventiladores monofásicos o motores hasta 30 amperios.
operación fácil y genial con pantalla táctil
ordenador del climatización y producción para todo tipo dennaves avícolas (pollos de engorde, reproductoras pesadas, pavos, patos, ponedoras)
modo de funcionamiento libre: Basic, Flex o Profi
procesador y memoria increíblemente rápidos
habla 16 idiomas – incluyendo el suyo
pantalla personalizable
interfaz de red integrada
gestión sencilla de alarmas
compatible con el programa de ordenador BigFarmNet-Manager
Product Catalog

Related categories VIPER TOUCH ordenador de control BIG DUTCHMAN
1 Category
Farm computers
Other products of BIG DUTCHMAN
34 productos
BIG DUTCHMAN
Since its inception in 1938, Big Dutchman has become the largest company of livestock facilities worldwide for poultry and pig farms. The use of waste is the most recent area of ​​activity.
The wide range of the company covers all types of housing systems, food and air. Practices and future solutions that combine animal welfare with economic benefits and energy sustainability is.
Big Dutchman looking for innovation and continuous improvement of its products using its extensive experience and expertise. All this serves to provide customers with reliable equipment, excellent quality and backed by the best professionals.
See company
Price and product availability