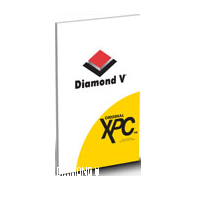 Product Description:
Feed ingredient produced by fermenting selected liquid and cereal grain raw ingredients with bakers yeast (Saccharomyces cerevisiae) and drying the entire culture-media without destroying the yeast factors, B-vitamins and other fermentation products. Used in a wide variety of animal feeds including dairy, swine, beef, horse, poultry and petfoods. Product of the USA.
IFN 7-05-520 Yeast culture dehydrated.

Safety Status:
Generally Recognized As Safe (GRAS) by the U.S. Food and Drug Administration.

List of Ingredients:
Saccharomyces cerevisiae yeast grown on a media of roughage products, processed grain by-products, cane molasses, malt, and corn syrup.

Guaranteed Analysis:
Crude protein, not less than 15.0%
Crude fat, not less than 1.5%
Crude fiber, not more than 25.0%
Ash, not more than 9.0%
Product Videos
1 video
Related categories Original XPC™
1 Category
Yeasts
Related Products
1 Product
Other products of DIAMOND V
1 producto
DIAMOND V

As a global nutrition and health company, Diamond V manufactures all-natural products to improve animal performance.
We connect our unique competencies in microbial-based fermentation technologies with our specie-specific expertise and world-class research to create profitable solutions for customers around the world.
Additionally, our human business segment focuses fermentation technologies on human health.
See company
Price and product availability