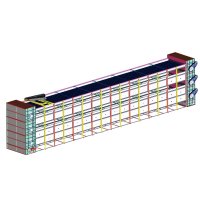 With the help of the Dorset Dryer, poultry manure can be dried throughout the year and converted either into organic fertilizer or fuel. The required warm air for the drying process can for instance be derived from stable air, or it can be residual heat from the generation of electricity. Dried poultry manure is an excellent and frequently used plant nutrient, both in a dried form and as a pellet.

Dorset dryers are frequently used for drying chicken manure with the help of warm air from stables. Most of these installations do not use pre-drying in the stable, which leads to substantial savings in electricity costs. The air from the stables that is utilized usually has a temperature of approximately 20°C. This is sufficient for drying the produced manure. Still, the higher the temperature and the lower the air humidity, the better the drying process will be. Poultry manure, either in a dried form or as a pellet, is an excellent and very popular plant nutrient.

The Dorset drying system has been certified by the government of the Netherlands as a technology that limits fine particle and ammonia emissions. The particulate content of stable air is reduced (approx. by 70 - 80%). It is possible for poultry farms to receive a subsidy for this.

The advantages of drying:
• Making good use of residual heat during the entire year;
• Lower treatment, storage and transport costs;
• New sales and utilization possibilities;
• Dust filtration;
• Hygienization, including reduced emissions and odours;

Advantages of the Dorset Dryer:
• Low energy consumption;
• Highly compact and flexible;
• Requires little maintenance;
• Fully automatic operation without supervision is possible;
• Low dust generation through low air speed;
Related categories Drying poultry manure
1 Category
Manure dehidraters
DORSET GREEN MACHINES B.V.

Dorset Green Machines is a leading global designer, manufacturer and marketer of biomass drying systems. We focus on commercially attractive solutions for treatment of biomass waste products, using available residual heat. The most common biomass products for drying are:
- poultry manure,
- sewage sludge,
- woodchips,
- digestate.
Drying significantly reduces storage and transport costs. The dried product can be sold as valuable organic fertilizer or as fuel for green energy or can be processed further.
Dorset manufactures complete pelletizing plants in plug-and-play container solutions. Pelletizing makes the dried product more marketable and significantly decreases the volume, which results in new export possibilities and further lower transport and storage costs.
Our newest development is the pyrolysis plant, turning dried (pelletized) manure into 50% oil/gas and 50% ashes. The oil and gas provide fuel for creating green energy through combustion. The ashes can be used/sold...
See company
Price and product availability