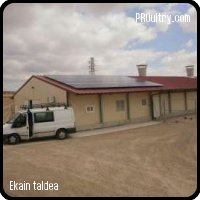 En nuestro entorno se encuentra muy extendida la red convencional de suministro eléctrico, pero quedan numerosos casos en los que puede competir un sistema generador de energía autónomo. Son emplazamientos aislados, cuyo abastecimiento eléctrico no resulta fácil, y en los que la instalación solar fotovoltaica, microhidráulica, eólica o mixta es mucho más barata que la extensión de una línea eléctrica.

En el diseño de estas instalaciones es fundamental hacer un buen estudio previo, tanto de las necesidades de consumo, como de la eficiencia de las posibles fuentes de producción energética disponibles en cada ubicación. En caso contrario nos podemos encontrar con sistemas que no funcionan como se esperaba y, por lo tanto, no cubren las expectativas, o con plantas sobredimensionadas y por lo tanto caras.

EKAIN TALDEA ha realizado múltiples instalaciones aisladas para distintos fines, desde la electrificación de bordas de pastores en Aralar, hasta viviendas habituales o de fines de semana, pasando por refugios de montaña o bodegas y en todas ellas el grado de satisfacción de los usuarios es en general muy alto.
Related categories ELECTRIFICACIÓN AISLADA
1 Category
Renewable energy consultancy services with experience in poultry and livestock facilities
EKAIN TALDEA

Ekain Taldea es una empresa instaladora con amplia experiencia en el sector de las Energías Renovables
EKAIN TALDEA fue creada en 1995. Es una empresa vasca surgida para el desarrollo e instalación de sistemas energéticos fundamentados en fuentes renovables de energía. Desde entonces hemos realizado múltiples proyectos e instalaciones de sistemas solares fotovoltaicos, eólicos y microhidráulicos (o mixtos) para particulares, instituciones públicas y privadas, centros educativos y ONGs. Instalamos tanto sistemas aislados en emplazamientos que carecen de suministro eléctrico, como plantas fotovoltaicas conectadas a red dedicadas a la venta de energía.
Combinamos la actividad instaladora con la asesoría y la formación, mediante cursos en diversas instituciones educativas o el diseño y producción de entrenadores para prácticas de laboratorio en Centros de Formación Profesional. Paralelamente, mantenemos canales fluidos de relación con varios centros de investigación para la búsqueda de...
See company
Price and product availability