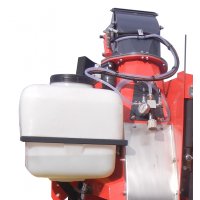 Numerous breeders of poultry, cattle, complained about some dust released by the straw during the straw spreading. We adapted a spray, the AEROLIB, with an adjustable flow which allows spreading a fine fog of water at the level of the mulching chute. This fine fog prevents the dust from flying .This spray also allows to disinfect the straw by including a disinfectant in the reservoir. The spray conceived initially for our crushing straw spreaders "POLYCUT", also adapts itself on all our range of straw spreaders and silage unloader.
Product Videos
1 video
Related categories AEROLIB - ATOMIZER FOR STRAW DISTRIBUTOR
1 Category
Feed factories, machinery for
Related Products
1 Product
Other products of EUROMARK
1 producto
EUROMARK

Full Control of Food
Specialist for over 20 years in the field of mulching and distribution, Euromark develops a wide range of Straw, Straw silage cutters, mixers, to be able to offer the machine best suited to your operation.
Euromark the range evolves to always bring you more quality, reliability, durability and comfort.
Thousands of farmers have appreciated the incomparable qualities of our Straw and Straw unloader lines 01, 02 and Progress 03.
Today, the XL range goes even further with many improvements, it is the combination of traditional quality (monocoque body) and advanced technology for mulching and désillage.
See company
Price and product availability