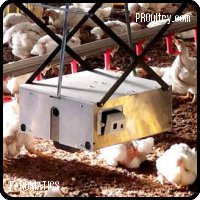 The ChickenBoy is the world-wide first roof-suspended robot that observes chickens, litter and equipment autonomously 24×7.
The robot monitors air quality, health and welfare through a multitude of sensors and cameras, inspects equipment operation and informs farmers, stock persons or vets via mobile alarms.
Product Videos
1 video
Related categories ChickenBoy
1 Category
Poultry robots
Related Products
1 Product
Other products of FAROMATICS
1 producto
FAROMATICS

Faromatics SL is a start-up bringing high tech to livestock production. Through continuous monitoring of animals, our aim is to detect their needs quickly and reliably. Satisfaction of those needs we will help farmers to become more competitive.
See company
Price and product availability