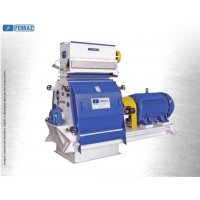 Rotative feeder with magnetic plate and automatic cleaning
Avaliable with pneumatic break
Features:
Two way motor rotation allowing the use of hammers in the four corners.
Low cost and easy maintenance.
Direct transmission between motor/ rotor with elastic coupling without the need of oil lubrification.
Solid and robust fabricate
Automation possibility : the feeder speed according to the amperage of main engine.
Great eficiency in fine grinding for extruded or pelletized raw materials.
Product Videos
1 video
Related categories GRINDER HAMMER MIL M-1000
1 Category
Feed factories, machinery for
Related Products
1 Product
Other products of FERRAZ MAQUINAS E ENGENHARIA
1 producto
FERRAZ MAQUINAS E ENGENHARIA

FERRAZ manufactures complete animal feed plants as well as single machinery and process lines for the animal feed industry. This includes process equipment for fishfeed, dog and catfeed, poultryfeed, cattlefeed, pigfeed etc.
Our modern tecnologies comprise single and double shaft extruders, dryers, coolers, pelleting presses, coaters, grinders, mixers, fat and colour injection equipment and more. We provide erection and startup of plants as well as training.
See company
Price and product availability