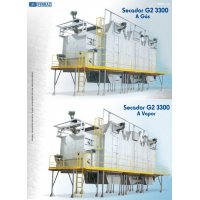 Capacities up to 15.000 Kg/h.
Product Videos
1 video
Related categories HORIZONTAL DRYER - GAS
1 Category
Feed factories, machinery for
Related Products
1 Product
Other products of FERRAZ MAQUINAS E ENGENHARIA
1 producto
FERRAZ MAQUINAS E ENGENHARIA

FERRAZ manufactures complete animal feed plants as well as single machinery and process lines for the animal feed industry. This includes process equipment for fishfeed, dog and catfeed, poultryfeed, cattlefeed, pigfeed etc.
Our modern tecnologies comprise single and double shaft extruders, dryers, coolers, pelleting presses, coaters, grinders, mixers, fat and colour injection equipment and more. We provide erection and startup of plants as well as training.
See company
Price and product availability