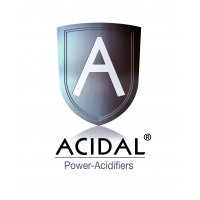 power-acidifiers
The Acidal range contains synergistic combinations of organic acids and natural extracts, for use in feed or drinking water, with antimicrobial properties and effects on digestion improvement. These combinations result in a better protection of the digestive system as well as improving animal performance.

Acidal CAL
Dry, synergistic combination of organic acids and salts for substitution of buffering limestone.

Acidal LACTIC
Dry, synergistic combination of organic acids for a lactic acid boost.

Acidal NC
Dry, synergistic combination of organic acids, salts and oregano extract.

Acidal ML
Liquid, synergistic combination of acidity-regulating salts for supplementation in drinking water.
Product Videos
1 video
Related categories ACIDAL
1 Category
Acidity regulators
Related Products
1 Product
Other products of IMPEXTRACO
1 producto
IMPEXTRACO

Impextraco is a leading global manufacturer and supplier of micro-ingredients for the feed industry. Impextraco is a family company currently owned by a fourth generation of a Belgian industrial family with a longstanding involvement in agribusiness.
Building on the knowledge and experience of a dedicated team of professionals, we help our customers make the right decisions in a complex feed ingredient sector. Impextraco's mission is therefore to select and develop reliable products that address today's feed issues, simplifying the process for our customers.
Impextraco's commitment to quality, however, goes far beyond our range of products.
We help you meet the demands for healthier, safer food products worldwide, adding value to your operations by protecting the health and improving the performance of animals.
Whatever your needs and wherever your location, you can count on Impextraco's commitment to your success.
See company
Price and product availability