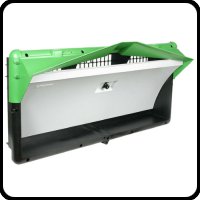 Trampilas de entrada de aire FANTURA
Acaba con el descenso del aire frío sobre las aves. Control preciso de la ventilación mínima de la sala o nave en entrada de aire. Haz que el aire llegue más lejos. Precisión también en naves grandes.
Aves sanas. Mejor crecimiento. Acaba con el descenso de aire frío sobre los pollos, reproductoras o gallinas ponedoras.

Corriente en chorro especial de Fantura con apertura compacta y rectangular permite un caudal mayor, dirigiendo el aire entrante a la parte alta de la nave dónde se mezcla con aire caliente. Evitando así la caída sobre el animal.

Ahorra en consumo de energía y en número de válvulas. Fantura te permite un 30% más de capacidad.
Carcasa aerodinámica equipada con un cono de entrada que reduce la resistencia del aire.
Corriente en chorro de la válvula de entrada.
Actuador inteligente IM 60 o IM 125 que basándose en la capacidad necesaria determina la posición ideal de la válvula de entrada de aire teniendo en cuenta la forma cambiante de la apertura y garantizando el volumen adecuado de aire en todas las condiciones.
El sistema Fantura tiene en cuenta tanto el número de aves como las diferencias de temperatura dentro de una misma nave y las ajusta automáticamente
Fantura tiene en cuenta el impacto del C02., la presión de aire y la humedad relativa de la nave.
Funcionamiento de la válvula de entrada mediante un muelle que permite un mejor control del rango mínimo y garantiza el cierre hermético de válvula
Consigue el clima óptimo gracias al actuador inteligente con que opera el sistema
Fácil control
Related categories Trampillas de entrada de aire FANTURA
2 Categories
Automatic and manual windows
Ventilation material
Other products of NEW FARMS SL
20 productos
NEW FARMS SL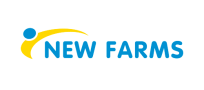 New Farms es una empresa joven y dinámica con más de 10 años de experiencia al servicio de la ganadería.
Especializada en ganadería intensiva, New Farms fabrica y comercializa en exclusiva sólo productos de primera calidad.
New Farms exporta a otros paises y en la actualidad trabaja en los cinco continentes.
Roxell - Silos, transportadores, comederos y bebederos para pollos, reproductoras y pavos.
Plasson - Bebederos para pollos, reproductoras y pavos (tetinas, camapanas).
Tama - Slats
Fancom - Ventiladores y ordenadores para control ambiental Nest Farms - Ponederos.
See company
Price and product availability