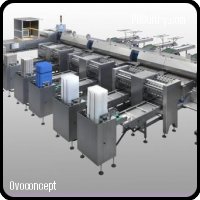 Clasificadoras de huevos / Inspección visual automática
Clasificadora de huevos, con o sin inspección visual automática, con una capacidad para tratar de 2 200 a 45 000 huevos/hora
Las clasificadoras de huevos permiten a los centros de acondicionamiento recoger los huevos procedentes directamente de la granja o producidos fuera de la explotación. Estas máquinas permiten realizar una inspección visual de los huevos, clasificarlos, marcarlos y embalarlos en cualquier tipo de embalaje que deseen sus clientes.
Tienen a su disposición diferentes capacidades, configuraciones y opciones
Product Catalog

Product Videos
1 video
Related categories Clasificadora de huevos
1 Category
Egg graders medium to high capacity
Related Products
1 Product
Other products of OVOCONCEPT
1 producto
OVOCONCEPT

Ovoconcept is specialised in poultry processes and engineering Based in Brittany, at the heart of Europe's leading poultry region, our SME supports professionals (breeders, artisans, industrial firms) in the development of eggs and egg products.
From design to the completion, each project is the subject of an in-depth study and customised monitoring in order to manage the equipment and processes.
For the Ovoconcept team, the technology is worthless unless it perfectly meets the objectives fixed with the customer.
This is why we encourage dialogue and the comprehensive approach to the project in order to propose the most appropriate solution(s) for the request. With one ambition: to better meet your needs.
See company
Price and product availability