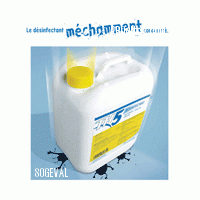 TH5, a new disinfectant effective against the bird flu virus
Our new disinfectant, TH5, approved as a multi-purpose breeding disinfectant and certified for preventive treatment of contagious diseases, is effective against the bird flu virus (H5N1) with the same dosage.

TH5 is a multi-purpose disinfectant effective against all bacteria, viruses and fungi present in farms, at approved doses from 0.1 to 1%.
The effectiveness of the TH5 disinfectant has been confirmed against the H5N1 virus, responsible for bird flu, at a dose of 0.1%. (Retroscreen Laboratory - Great Britain December 2005)

Application :
TH5 is applied as a spray, preferably using a foam gun with 0.2 to 0.3 litres of solution/sq. meter. It is used in wheel dips and foot baths at doses of 1 litre for 100 litres of water. Finally, TH5 is available in 1 litre, 5 litre, 10 litre, 25 litre, 60 litre, and 200 litre flasks.
Product Videos
1 video
Related categories TH5
1 Category
Disinfectants
Related Products
1 Product
Other products of SOGEVAL
1 producto
SOGEVAL

Sogeval, a French veterinary drug company, develops, produces, and markets veterinary products under its own brands and for third-party companies.
We provide animal care in three major business lines: livestock, pets, and subcontracting.
See company
Price and product availability