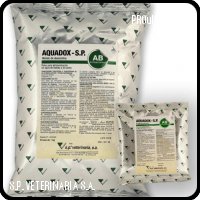 Doxiciclina (hiclato) 50%
FORMA FARMACEÚTICA
Polvo oral para administrar en agua de bebida o leche
PRESENTACIÓN
200 g
1 Kg
ESPECIES DE DESTINO
Aves / Porcinos / Bovinos
(Porcino engorde / Pollos engorde / Terneros prerrumiantes)
DOSIS
Porcino engorde:
10 mg de doxiciclina/ kpv / día, durante 5 días, (200 g/1.000 litros)
Pollos engorde:
15 mg de doxiciclina/ kpv / día, durante 3-5 días, (150 - 300 g/1000 litros)
Terneros prerrumiantes:
10 mg de doxiciclina / kpv / día, durante 5 días, (0.2 g/10 kpv )
ENFERMEDADES
Enfermedad Respiratoria Crónica (E.R.C.)
Colibacilosis
Neumonía enzoótica porcina
Neumonía
Pasteurelosis
TIEMPO DE ESPERA
Carne:
Porcino: 2 d.
Pollos: 7 d.
Terneros: 7 d.
ANUNCIO PUBLICITARIO
Product Catalog

Related categories AQUADOX
1 Category
Anti CRD and respiratory therapeutics
Other products of SP VETERINARIA
10 productos
SP VETERINARIA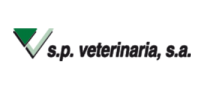 S. P. Veterinaria investiga, desarrolla, fabrica y comercializa especialidades farmacéuticas de uso veterinario, pensando en la resolución de las patologías que se producen en las instalaciones avícolas. Para ello ofrece un servicio de atención personalizado y directo al cliente. S.P. Veterinaria dispone de una amplia gama de especialidades: Antibióticos, aminoácidos, analgésicos, antiinflamatorios, antipiréticos, antiparasitarios, premezclas medicamentosas, vitaminas, coadyuvantes de tratamiento, fungicidas, insecticidas y desinfectantes.
See company
Price and product availability