featured
Comedero para broilers ALBRO Alerta
A product of SYMAGA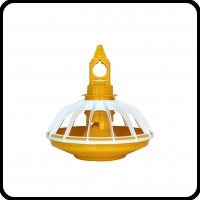 ALBRO es el nuevo comedero para pollos de GROWKET.
Presentado en FIGAN 2019 se caracteriza por su rejilla de rejilla de 14 brazos y gran robustez.
Dotado de gran resistencia, al haber aumentado el espesor de sus piezas por encima de los estándares del mercado, y de fácil acceso del pollito desde el primer día por su diseño en W que facilita el hundimiento en la cama.
La apertura mediante bisagra consigue una rápida limpieza.
Para su fabricación se utiliza plástico resistente a los rayos UV, a los detergentes y desinfectantes. La línea de alimentación, se complementa con un nuevo tubo agrafado, abocardado y galvanizado, adicional al liso ya existente; y una unidad de control de final de línea con LED, que emite longitudes de onda, que atraen a las aves, garantizando el completo llenado de la línea de comederos.
Product Videos
1 video
Related categories Comedero para broilers ALBRO
1 Category
Feeders
Related Products
1 Product
Other products of SYMAGA
1 producto
SYMAGA

Philosophy and Structure
Symaga  was created in 1985 by Alfonso Garrido to manufacture of silos and components for poultry and pig farming. Currently, it is a multinational belonging to the Garrido family and the company exports to over 120 countries.
The company philosophy is based on customer satisfaction, manufacturing and marketing quality products.
For this purpose, Symaga has constantly invested in technology to modernize the factory, now fully automated. This allows us to manufacture products of standardized quality, offer good value for money, control the entire production process and offer faster delivery times.
Structure
We offer a  global service through our 4 divisions:
-Silos: specialized in the design, manufacture and marketing of metal silos for storage.
-Livestock equipment: offering a "turnkey" solution for livestock projects.
-Agricultural equipment: manufacturing metal water tanks and vineyard equipment.
-Steel works: for steel and plastic...
See company
Price and product availability