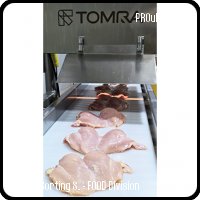 The TOMRA QV-P is an
in-line detector for the identification of chicken wooden breast
- a condition that affects broiler chickens, making the meat hard and chewy.
Utilizing established, patented technology, TOMRA has expanded the range of applications for its offering in the meat and poultry sector. The TOMRA QV-P is
the world's first in-line detection machine for the identification of wooden breast in chicken fillets and butterflies
, and allows processors to accurately grade chicken fillets against specific criteria.
The unique solution, which uses multi spectral lights to
allow high speed analysis of the chicken fillets
, was showcased at the IPPE (International Production & Processing Expo) in Atlanta, Georgia, earlier this year.
The dedicated software allows the TOMRA QV-P to accurately
grade chicken fillets into multiple grades
, determined by the customer, on the severity of wooden breast in the fillet or butterfly.
Previously, processors had to manually review each chicken fillet before processing, in what was called
a 'thumb check'
. With TOMRA's new in-line analyzer, these time-consuming, labor-intensive, manual checks are no longer needed.
Key features
Sensor Technology
TOMRA's unique interactance spectroscopy allows to measure into the fillet and determine the internal composition of the meat. Without harmful radiation, it measures each filet or butterfly and provides feedback to the processing line.
The TOMRA QV-P optical head can easily be installed above existing chicken breast processing lines to allow sorting.
Product Benefits
Reduced labor requirements
Increased throughput
Consistent grading
Guaranteed consistent customer quality
Product Catalog

Product Videos
1 video
Related categories TOMRA QV-P
1 Category
7-.Computers, artificial vision systems and software for the processing plants
TOMRA Sorting Food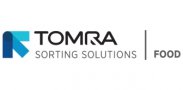 Tecnología para procesado de los alimentos
Independientemente del tipo de alimentos que clasifique, el rechazo de cuerpos extraños y de sustancias potencialmente nocivas es crítica. Este es el motivo por el que necesita tecnologías de clasificación basada en sensores de gran precisión.
Los sensores son como tener buena vista. La detección es esencial en la clasificación. Los sensores avanzados de TOMRA son como los ojos de un águila: ven mejor y son capaces de detectar y suministrar más información.
TOMRA SORTING: EMPRESA PIONERA EN LA TECNOLOGÍA DE SENSORES
Como pioneros mundiales en la clasificación basada en sensores, la tecnología de clasificación de TOMRA continua impulsando dinámicamente el desarrollo de nuevos, y cada vez mejores, sensores para maximizar aún más la eficacia de los procesos de nuestros clientes.
VER LO INVISIBLE
La tecnología de sensores de TOMRA ofrece la eficacia, precisión y velocidad más altas. No solo es capaz de detectar los tamaños de partículas...
See company
Price and product availability