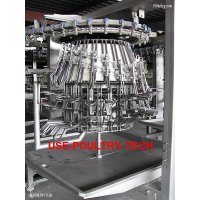 CHICKEN EVISCERATION MACHINES
Looking for used poultry evisceration machines? We have got it all!

Meyn® Maestro 28 units cw 2149:
brand: MEYN®
machine: Maestro
machine type: 28x6
pitch: 6"
direction: cw
units: 28
capacity: 10000 bph
machine length: 4350 mm
machine width: 24250 mm
machine height: 3120 mm
weight: 2800 kg
installed power per motor: 2,2 kW
current state: 1

Stork Eviscerator 6'' 24 units 3034:
brand: Stork
machine: Eviscerator
machine type: Nuova
year manufactured: 2005
pitch: 6
direction: CCW
units: 24
capacity: 6000 bph
machine length: 2000 mm
machine width: 1800 mm
machine height: 2200 mm
weight: 600 kg
current state: 3

AND MUCH MORE!
Product Videos
1 video
Related categories Evisceration machines
1 Category
3-.Evisceration and chilling
Related Products
1 Product
Other products of USE POULTRY TECH
1 producto
USE POULTRY TECH

USE Poultry Tech is the leading provider of used meat and poultry processing equipment, production lines and whole factories.
USE Poultry Tech BV is a trade organization focused on export within the meat processing industry selling used machines, production lines and whole factories, especially within the poultry industry.
Our company does business worldwide with the most influential producers. USE Poultry Tech is a young (2005), small (20 employees), ambitious and fast growing company (75% growth annually) that is known for its employee involvement, a very dynamic work environment and a 24/7 online marketplace.
We are highly motivated and commercially driven: presentation is everything! Our ambition is to become "the world's leading market place for used meat processing equipment en systems".
Since 1984 we work in the Poultry Processing Industry, or better, work WITH Poultry Processors, on a global level.
First in Northern America and Southern Africa, later Middle- and South...
See company
Price and product availability