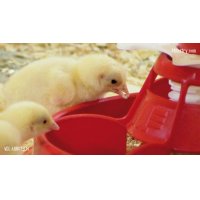 Valenta, effective versatility!

Versatile broiler feed pan designed for both restricted and unrestricted feeding.
Low ridge for easy access to feed from day one.
Open design prevents chicks from getting caught inside the feed pan.
Pan design minimizes feed spillage.
Simple 6 position feed level adjustment.
User friendly, centrally adjustable with winching system.
Suitable for meal, crumbled and pelletized feed
Smooth surfaces for easy cleaning and disinfection.
Hinged bottom for efficient cleaning.

Unrestricted access:
The only 58 mm high ridge of the feedpan allows easy access for all day old chicks to the feed. A perfect start is herewith guaranteed.

Absence of grill:
Absence of the grill prevents birds from getting caught inside the feedpan.
Feedspace design ideal also for heavier birds.
Smooth surface facilitates cleaning and disinfection.

Durable:
All components are made of high quality virgin polypropene, guaranteeing long life time.
Drive unit standard equipped with motor protection switch and electronic level sensor.

Simple control of feed distribution:
Central adjustment for high and low feed level position with winching system.
6-position feed level ring for accurate and easy feed level adjustment.
Design of the pan ridge, inclining pan bottom and 6 wing feed divider prevent feed spillage.
Sensor in control pan secures continuous supply of fresh feed.
Suitable for meal, pelletized and crumbled feed.

Options:
Plastic feed cut off slide.
Anti-swing insert for pan fixation to the tube.
Reduction tube for restricted feeding.
Flat tube connection for use in cages and alternative systems.

Optimum hygiene, easy to clean:
Hinged pan bottom allows easy emptying and cleaning of the feed pan.
Open pan design simplifies proper cleaning of the complete feed pan.
Smooth surfaces easy to clean with high pressure cleaner.
Rotating of the feed pan facilitates cleaning when using high-pressure cleaner during washing.
Product Videos
1 video
Related categories VALENTA
1 Category
Feeders
Related Products
1 Product
Other products of VDL AGROTECH
1 producto
VDL AGROTECH

VDL Agrotech (member of VDL Groep) manufactures and supplies equipment for the intensive modern livestock industry, for 50 years. The product range comprises feeding and drinking systems, climate control and cooling and drying systems. VDL Agrotech is specialised in turnkey projects.
Specialist in engineering:
Engineering projects is our specialty. VDL Agrotech  designs, supplies and builds complete turnkey projects worldwide. From detailed engineering until complete erection of delivered equipment. All projects are designed in accordance with the local climatical circumstances to best meet the needs of the customer. The erection of the project is done under the supervision of a VDL Agrotech skilled supervisor, who takes care of correct erection and installation of delivered equipment. The supervisor always works together with a local group of technicians to ensure correct installation and train a local crew of technicians for maintenance of the delivered equipment.
​
Direct...
See company
Price and product availability