Tablets, aerosols,... Alerta
A product of VMD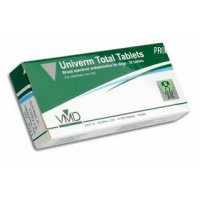 Tablets, aerosols,...
Product Catalog

Product Videos
1 video
Related categories Tablets, aerosols,...
1 Category
Internal antiparasitic drugs
Related Products
1 Product
Other products of VMD
1 producto
VMD

Producer of veterinary medicines.
Biové: who are we
Laboratoires Biové, located in the North of France, is a veterinary pharmaceutical company, part of the Belgian, privately owned VMD group. The main activities of Biové are the development, manufacturing and distribution in France and on international markets of veterinary medicines, mainly for livestock animals.
Contract manufacturing
Laboratoires Biové offers extensive contract manufacturing services and has four production units for pharmaceutical products: injectable solutions and suspensions, powders, oral liquids, and pet collars. A fifth unit is dedicated to the production of complementary feed.
Professional Pharma Group
The V.M.D.® group is a global veterinary pharmaceutical company, dedicated to research, production and marketing of animal health products. With nearly 80 EU approved medicines in our portfolio, Laboratoires Biové and VMD® are highly appreciated players in the livestock segments.
See company
Price and product availability