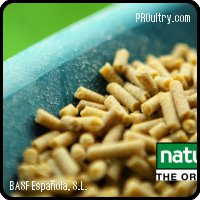 Natuphos® makes bound phosphorus digestible
Natuphos® is a highly efficient 3-phytase. Monogastric animals like poultry and swine lack sufficient intestinal phytase for breaking down phytate, which is present in cereal and soybean-based diets to varying extents. Hence, added to feed, Natuphos® joins the limited range of endogenous enzymes present in the gastrointestinal tract of pigs and poultry to ensure the efficient release of dietary phosphorus from phytate, thus making it readily digestible.
Product Catalog

Product Videos
1 video
Related categories Natuphos®
1 Category
Feed Enzymes
Other products of BASF Española, S.L.
3 productos
Product Website
https://nutrition.basf.com/en/Animal-nutrition/Natuphos.html
BASF Española, S.L.

BASF en España
Las empresas de BASF en España fabrican productos químicos para ayudar a sus clientes a tener más éxito en prácticamente cualquier sector de la industria, ya sea en el mercado interior como en el extranjero.
Actualmente, BASF comercializa en España su extensa gama de productos a través de seis empresas y una joint venture, en las que trabajan más de 2.000 colaboradores. Cinco de ellas disponen de centros de producción propios.
BASF Española S.L.
BASF Española S.L. tiene su sede central en Barcelona
Nuestra empresa inició sus actividades directas en España en 1969, con la apertura de oficinas en Barcelona y la puesta en marcha, en el polígono industrial de Tarragona, de una planta para la producción de poliestireno expandible: Styropor®.
Al cabo de pocos años, sucesivas ampliaciones de la fábrica de Tarragona, nos permiten producir en nuestro país: plastificantes, disolventes orgánicos, dispersiones y soluciones poliméricas, Styropor®, productos para la nutrición animal,...
See company
Price and product availability