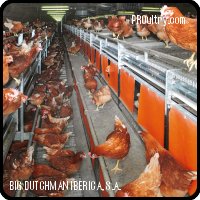 Product Catalog

Related categories NOVA NATURA TWIN aviary
1 Category
Aviaries for laying hens (in production)
Other products of BIG DUTCHMAN
34 productos
BIG DUTCHMAN
Since its inception in 1938, Big Dutchman has become the largest company of livestock facilities worldwide for poultry and pig farms. The use of waste is the most recent area of ​​activity.
The wide range of the company covers all types of housing systems, food and air. Practices and future solutions that combine animal welfare with economic benefits and energy sustainability is.
Big Dutchman looking for innovation and continuous improvement of its products using its extensive experience and expertise. All this serves to provide customers with reliable equipment, excellent quality and backed by the best professionals.
See company
Price and product availability