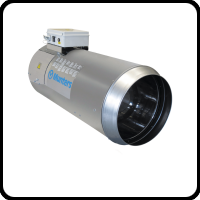 100% thermal efficiency
Heating output manually adjustable
Ideal for space heating
Easy to install
Easy to operate
Functions on LPG
Double solenoid valve for shutting off gas supply
Safety switch preventing overheating
​
The GA Air Heaters are designed for cost effective heating solutions in a wide variety of applications, including greenhouses, poultry houses and other livestock structures.
All models function on the principle of direct fired gas heating. Hereby a powerful fan is used to force air through a combustion chamber where the burner is situated. As the air passes through the burner, all the heat released by the combustion process is transferred to the air stream. This gives the heater a 100% thermal efficiency.
The heat output of the heater can be varied by the manual adjustment of a regulating valve.
The available models are GA30, GA55, GA95 and GA95t.
The GA heaters operate on Liquid Petroleum Gas (LPG), which is a very clean burning fuel. To ensure a long life span in humid environments, the GA heaters are manufactured in stainless steel with all electrical components contained inside an IP55 enclosure.
For safety purposes the heaters are equipped with a double solenoid valve for closing and opening of the gas supply. Additionally the heaters are equipped with a safety pressure sensor that will cut the gas supply should an obstruction of the airflow occur. All models come fully assembled with an electric cord and gas connection pipe with a pressure regulator, ready for use. Optionally the heaters can be supplied with a mechanical or electronic thermostat.
Product Catalog

Related categories GA95t Hanging Air Heater
1 Category
Heating facilities
Other products of MUNTERS
12 productos
MUNTERS

Munters develops and manufactures energy efficient climate control systems for the growth and development of agricultural applications.
By providing the perfect climate, our solutions enable farms to operate and produce under optimum conditions. The innovative product range includes ventilation, evaporative cooling, heating and controls systems.
Munters Agriculture climate control systems comprise broilers, layers, swine/hogs and dairy applications and aim to increase productivity, health and welfare of the animals in these intensive farming applications, always with the lowest total cost of ownership possible for the farmers. Total cost of ownership is signified by the entire system operating cost such as energy consumption, maintenance cost and product life cycle.
Munters is aware of the challenges faced in livestock production and how the climate affects broiler, layer, swine (hog), and dairy farms.
Livestock farms face problems such as heat stress, inefficient feed conversion...
See company
Price and product availability