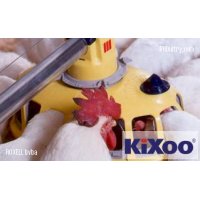 Unique pan feeding system for broiler breeders
Optimal use of your floor space
The unique oval* shaped pan, offers up to 16 feeding places, which allows you to place up to 64 animals per 3 meter feeding length.
(*) Patented
Excellent uniformity in feed distribution
The high capacity auger fills all pans throughout the house simultaneously with equal portions.
A special insert on the tubes prevents the pan from swinging, thus keeping the feed central in the pan.
The KiXoo ®-concept, with its unique inner and outer pan, prevents feed waste. The outer pan catches the feed from the inner pan.
Separate feeding for hens and cockerels
The inside grill* is adjustable in height and width. This prevents cockerels, regardless of their age or breed, from eating with the hens. (*) Patented
Handy adjuster knob to set the width of the grill opening quickly and precisely (per mm, between 40 and 50 mm), according to the age of the cockerels.
Durable, 10-year guarantee * on the complete pan. (*) Degressive
The pan parts are of durable UV-stabilized plastics, which resistall commonly used cleansing agents and detergents.
Easy management
An adaptable inner grill to obtain an optimal pan depth.
The adjustment ring allows an optimal regulation of the feed level in the inner pan.
A shut-off slide to apply partial rearing.
A reliable control unit with sensor.
A solid hinge allows easy, thorough cleaning.
You can use KiXoo ® from the first day onwards! Special feed windows automatically provide a high feed level during the start. The grill set in its lowest position provides a low pan for easy access to the feed.
Product Catalog

Product Videos
1 video
Related categories KiXoo
1 Category
Feeders
Related Products
1 Product
Other products of ROXELL bvba
1 producto
ROXELL bvba

Roxell bvba, located in Maldegem, Belgium, is the worldwide leader in livestock production systems. Our success and reputation are based on our distinct product innovations, a sound investment policy and the talent and dedication of our 300 employees and more than 150 distributors all over the world. With 80 million Euro and an excellent profitability, Roxell is an important business unit of CTB (with a turnover of 1 billion Dollar).
See company
Price and product availability