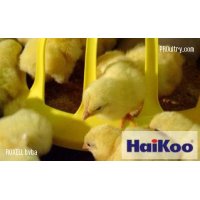 Unique oval pan feeding system for broilers
Fantastic start up of day-olds
A low pan edge for easy access to the feed.
The large feeding surface offers optimal eating comfort. 360° flooding keeps the HaiKoo-pan full of feed.
The special grill design keeps young birds out of the pan from 10 days onwards.
With feed slots to attract birds.
Excellent control over feed costs
The unique, patented, HaiKoo-pan with high anti-waste rim eliminates practically all feed waste, even from day one.
The control unit ensures a fast and frequent delivery of fresh feed,leading to superior hygiene and outstanding feed conversion rates.
Handy feed level adjustment ring.
The deep feed trough in the pan keeps feed central.
The special cone wings prevent birds from flicking the feed.
1140 mm of feeding space
Offers up to 14% more birds per pan than most standard broiler pans.
Ideal for heavy broilers.
Ideal for controlled growth through light scheme feeding, mealtimefeeding and restricted feeding.
Ideal for increasing the stocking density without having to add feeder lines (e.g. when switching to tunnel ventilation and pad cooling).
Easy to clean and durable
Open structure with a smooth, closed rim for easy cleaning witha high pressure cleaner.
Hinged pan. Made of highly durable plastics to resist all commonly usedcleansing agents.
A 10-year-warranty (*) on the pans and augers. (* Degressive warranty)
Product Catalog

Product Videos
1 video
Related categories HaiKoo
1 Category
Feeders
Related Products
1 Product
Other products of ROXELL bvba
1 producto
ROXELL bvba

Roxell bvba, located in Maldegem, Belgium, is the worldwide leader in livestock production systems. Our success and reputation are based on our distinct product innovations, a sound investment policy and the talent and dedication of our 300 employees and more than 150 distributors all over the world. With 80 million Euro and an excellent profitability, Roxell is an important business unit of CTB (with a turnover of 1 billion Dollar).
See company
Price and product availability