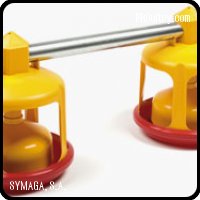 1.2 Turkey
STAR C. Optimum start-up of rear. Ideal for start until the 5th week:
Rear cone prevents in and out of the rear, avoiding feed soiling
Pan height to easy feed access.

STAR H. Versatile.
From the 6th week allows finishing female, only changing the cone.
STAR F. Ergonomic and resistant.
60mm diameter feeding tube. To ensure the speedy distribution of feed in the feeding lines.
Prevents injuries to the animal's head.
Pan cover height are precisely calculated.
Free circulation of turkeys in the building.
Pan height and tube allows natural movement.
More robust.
Strong connections between different parts resist the aggressive treatment by turkeys.
Product Videos
1 video
Related categories FEEDERS- Turkeys
1 Category
Feeders
Related Products
1 Product
Other products of SYMAGA
1 producto
SYMAGA

Philosophy and Structure
Symaga  was created in 1985 by Alfonso Garrido to manufacture of silos and components for poultry and pig farming. Currently, it is a multinational belonging to the Garrido family and the company exports to over 120 countries.
The company philosophy is based on customer satisfaction, manufacturing and marketing quality products.
For this purpose, Symaga has constantly invested in technology to modernize the factory, now fully automated. This allows us to manufacture products of standardized quality, offer good value for money, control the entire production process and offer faster delivery times.
Structure
We offer a  global service through our 4 divisions:
-Silos: specialized in the design, manufacture and marketing of metal silos for storage.
-Livestock equipment: offering a "turnkey" solution for livestock projects.
-Agricultural equipment: manufacturing metal water tanks and vineyard equipment.
-Steel works: for steel and plastic...
See company
Price and product availability