featured
TURNKEY LIVESTOCK FACILITIES- Poutry farm Alerta
A product of SYMAGA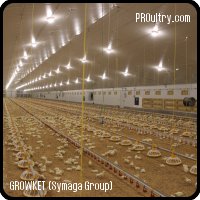 Livestock buildings
Symaga designs and manufactures all types of turnkey livestock facilities; offering the entire project from the construction of the building, air-conditioning, the silo and all the livestock material required for the breeding of your animals. We offer comprehensive solutions to optimize your investment and increase the transformation rate.
Our Engineering Department has developed a modular system which will adapt to any project, taking into account the use, geographical location, type of terrain and current regulations. You can count on the technical assistance of our team of engineers from the beginning to the end of installation.
Versatile modular structure
We offer a galvanized steel structure with roof, false ceiling and sandwich type walls.
We design diaphanous buildingsbased on rectangular plans with gable roofs.
We go in for a completely screwed, unwelded primary structure for easy assembly. Their modular nature makes them suitable for export. They can be disassembled, enlarged or relocated at low cost.
We offer a PVC panel fencing system to create divisions inside the building and form all kinds of distributions.
We offer lighting and environmental control systems to complete the turnkey project.
Manufacturing and Construction Materials guaranteeing durability
Structure
We manufacture with S275JR structural steel according to the EN 10025 standard for hot dipping and S280GD Z275MA CE.
We manufacture belts in different formats: sigma, zeta, C, U, etc. to suit different projects. Continuous galvanized Z450 and joined to the porches by bolted cleats.
We provide new couplings in eaves, such as side flaps. 8.8 quality hardware according to the DIN standard.
Roof and Walls
Sandwich panels of different thicknesses and models as required. Specific for agricultural buildings and recommended for corrosive and aggressive environments.
Windows, Vents and Doors
The production intensity of modern buildings requires a high efficiency ventilation system. Symaga offers windows, vents and doors which, along with the ventilation systems, ensure an optimal indoor climate.
Types. Closed and Open
Symaga offers different types of building to suit different climatic and geographical conditions and types of animal.
Closed
Perfectly sealed to ensure full control of air-conditioning in hot and cold areas. They have sandwich panel walls to ensure thermal insulation. We have selected different materials for the side walls, taking into account the type of animal.
Open
For temperate areas of the world where climate control is less restrictive. The entry of air through the side openings is regulated with a system of curtains of different sizes or can be protected with windows in areas of high winds.
Product Videos
2 videos
Related categories TURNKEY LIVESTOCK FACILITIES- Poutry farm
1 Category
Poultry buildings
Other products of SYMAGA
7 productos
SYMAGA

Philosophy and Structure
Symaga  was created in 1985 by Alfonso Garrido to manufacture of silos and components for poultry and pig farming. Currently, it is a multinational belonging to the Garrido family and the company exports to over 120 countries.
The company philosophy is based on customer satisfaction, manufacturing and marketing quality products.
For this purpose, Symaga has constantly invested in technology to modernize the factory, now fully automated. This allows us to manufacture products of standardized quality, offer good value for money, control the entire production process and offer faster delivery times.
Structure
We offer a  global service through our 4 divisions:
-Silos: specialized in the design, manufacture and marketing of metal silos for storage.
-Livestock equipment: offering a "turnkey" solution for livestock projects.
-Agricultural equipment: manufacturing metal water tanks and vineyard equipment.
-Steel works: for steel and plastic...
See company
Price and product availability