featured
PROYECTOS LLAVE EN MANO "TIGSA" Alerta
A product of TIGSA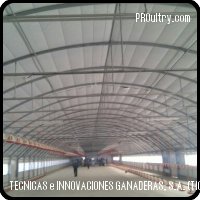 La completa gama de productos de primera calidad de TIGSA permiten realizar proyectos completos "llave en mano" adecuados a cada granjero.
Si ud. lo desea, TIGSA puede realizar un proyecto completo de automatización de su instalación, incluso desarrollar soluciones específicas.
En un campo como el de la ganadería, en constante expansión y desarrollo técnico y científico, somos conscientes de que cada día se plantean nuevas necesidades. Nuestro equipo de consultores analizará e investigará la viabilidad de cualquier proyecto y le ofrecerá soluciones personalizadas.
Soluciones llave en mano para todo tipo de aves, engorde, reproductores, pavos, perdices,...
Product Videos
6 videos
Related categories PROYECTOS LLAVE EN MANO "TIGSA"
1 Category
"Turn key" projects
Other products of TIGSA
14 productos
TIGSA

Tigsa is a manufacturer of equipment for the automation of all types of livestock farming industry.
With over 40 years experience in the market we respond to the needs of farmers lthat are looking for a good equipment for automatic feeding their farms.
Tigsa is mainly characterized by first-class products. We provide a wide range that meets the highest quality standards. Trust our accredited manufacturing processes. We will suggest the most suitable product for you.
See company
Price and product availability