featured
A product of TIGSA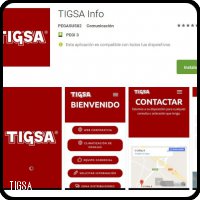 La aplicación centraliza toda una serie de servicios de la empresa Técnica e Innovaciones Ganaderas, S.A.

Le permitirá contactar por teléfono, correo y formulario de contacto con la empresa y su equipo comercial.
Podrá acceder directamente a las páginas de redes sociales donde publica información.
Consultar su blog, acceder a sus distintas webs especializadas, descargarse cualquier información publicada.
Navegación a través de google maps, solicitar presupuestos, estados de pedidos para clientes/distribuidores, etc
La aplicación TIGSA Info irá aumentando su contenido para poner a su servicio todas la facilidades que la tecnología nos permita.

Related categories TIGSA Info
1 Category
Poultry apps
Other products of TIGSA
14 productos
Product Website
https://play.google.com/store/apps/details?id=com.tigsa
TIGSA

Tigsa is a manufacturer of equipment for the automation of all types of livestock farming industry.
With over 40 years experience in the market we respond to the needs of farmers lthat are looking for a good equipment for automatic feeding their farms.
Tigsa is mainly characterized by first-class products. We provide a wide range that meets the highest quality standards. Trust our accredited manufacturing processes. We will suggest the most suitable product for you.
See company
Price and product availability