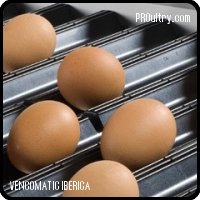 Vencobelt - por Vencomatic

Los huevos se transportan suavemente desde distintas filas de nidales o naves hasta una ubicación central de la granja mediante Vencobelt. Esta cinta está disponible con una anchura de 40 y 55 cm y cuenta con una capacidad de transporte de hasta 45.000 huevos por hora. El diseño inteligente de los transportadores y las conexiones suaves de la cinta permiten una inclinación de hasta 35° y un ángulo reducido de hasta 180°. Además, únicamente se ha integrado una cadena de transmisión para que la cinta transportadora resulte flexible en su aplicación, permitiendo contar con un ángulo de 90° en un solo metro cuadrado.
Product Videos
1 video
Related categories VENCOBELT
1 Category
Egg gathering and transport systems
Other products of VENCOMATIC IBÉRICA
20 productos
VENCOMATIC IBÉRICA

Vencomatic es fabricante mundial de soluciones de alojamiento innovadoras y respetuosas del bienestar de los animales para el sector avícola. Las numerosas posibilidades ofrecidas por las soluciones flexibles y 'llave en mano' de Vencomatic son aplicables a una amplia gama de conceptos en la avicultura. Ponemos nuestros conocimientos y experiencia profesional al servicio de los avicultores para permitirles obtener los mejores resultados y los más altos rendimientos.
Desde su fundación en 1983, Vencomatic ha destacado como empresa innovadora del sector avícola. La empresa desarrolla, produce y comercializa una amplia gama de sistemas avícolas. Gracias a nuestra larga experiencia en la construcción de sistemas alternativos de alojamiento y recolección de huevos, la flexibilidad de nuestra organización y la dedicación de nuestra plantilla, Vencomatic es capaz de ofrecer soluciones completas y sólidas adaptadas a cada situación. También realizamos proyectos 'llave en mano'.
La sede de Vencomatic...
See company
Price and product availability