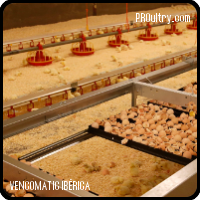 The X-Treck is a unique concept that enables on-farm hatching in traditional broiler houses. X-Treck provides an optimal start resulting in robust broilers and forms the basis for further profitability in broiler production.
In the X-Treck, setter trays with 18 day-incubated eggs are placed on a rail system that is suspended over the length of the broiler house. The rail system is positioned freely in the air, ensuring an optimal airflow surrounding the eggs during hatching. Controlling the systems' height with a winching system, the farm manager has an easy to use tool to control the airflow and temperature surrounding the embryo.
Options:
Complementary to the X-Treck is an automatic setter tray transport system. It automates the process of transporting the setter trays from the front to the backend of the house. This reduces manual labour and increases user friendliness.
An electronic winch allows you to further automate the process in the broiler house. It replaces the manual winch and thereby offers a further reduction in manual labour.
With the In-Cradle system the care for the newly hatched chicks is further optimized. Directly after hatching, chicks land on a synthetic surface where they recover from hatching before accessing the litter floor below. The In-Cradle system is easily positioned underneath the X-Treck.
Product Catalog

Product Videos
2 videos
Related categories X-Treck
1 Category
Hatcheries
Other products of VENCOMATIC IBÉRICA
20 productos
VENCOMATIC IBÉRICA

Vencomatic es fabricante mundial de soluciones de alojamiento innovadoras y respetuosas del bienestar de los animales para el sector avícola. Las numerosas posibilidades ofrecidas por las soluciones flexibles y 'llave en mano' de Vencomatic son aplicables a una amplia gama de conceptos en la avicultura. Ponemos nuestros conocimientos y experiencia profesional al servicio de los avicultores para permitirles obtener los mejores resultados y los más altos rendimientos.
Desde su fundación en 1983, Vencomatic ha destacado como empresa innovadora del sector avícola. La empresa desarrolla, produce y comercializa una amplia gama de sistemas avícolas. Gracias a nuestra larga experiencia en la construcción de sistemas alternativos de alojamiento y recolección de huevos, la flexibilidad de nuestra organización y la dedicación de nuestra plantilla, Vencomatic es capaz de ofrecer soluciones completas y sólidas adaptadas a cada situación. También realizamos proyectos 'llave en mano'.
La sede de Vencomatic...
See company
Price and product availability