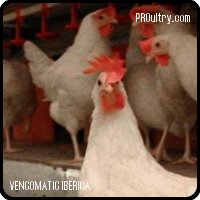 Since its introduction over 25 million birds have been housed on the Bolegg Terrace, expressing the great success of this aviary system. The Bolegg Terrace is designed like a tree. No other system is as open as the Bolegg Terrace. Together with the smart positioning of the perches, this facilitates vertical movement of the hens. Without encountering any obstacles hens can move within the system and over its full length.
The nest is located in the heart of the Bolegg Terrace. Every morning hens descend from the perch to drink, eat and lay their eggs. The attractive, comfortable and safe nest area minimises eggs laid outside of the nest.
The layout of the Bolegg Terrace allows for wide and obstacle free corridors as birds move vertically. They do not need to fly from one row to another. These corridors and the open system enable:
good visual access for easy inspection;
an optimal light distribution minimizing floor eggs;
a pleasant working environment;
possibility for cleaning with a mini loader.
Product Catalog

Product Videos
2 videos
Related categories Aviary BOLEGG TERRACE
1 Category
Aviaries for laying hens (in production)
Other products of VENCOMATIC IBÉRICA
20 productos
VENCOMATIC IBÉRICA

Vencomatic es fabricante mundial de soluciones de alojamiento innovadoras y respetuosas del bienestar de los animales para el sector avícola. Las numerosas posibilidades ofrecidas por las soluciones flexibles y 'llave en mano' de Vencomatic son aplicables a una amplia gama de conceptos en la avicultura. Ponemos nuestros conocimientos y experiencia profesional al servicio de los avicultores para permitirles obtener los mejores resultados y los más altos rendimientos.
Desde su fundación en 1983, Vencomatic ha destacado como empresa innovadora del sector avícola. La empresa desarrolla, produce y comercializa una amplia gama de sistemas avícolas. Gracias a nuestra larga experiencia en la construcción de sistemas alternativos de alojamiento y recolección de huevos, la flexibilidad de nuestra organización y la dedicación de nuestra plantilla, Vencomatic es capaz de ofrecer soluciones completas y sólidas adaptadas a cada situación. También realizamos proyectos 'llave en mano'.
La sede de Vencomatic...
See company
Price and product availability