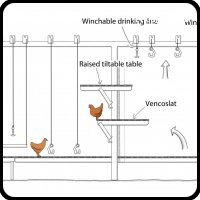 With the Jump Start you rear birds to be true athletes. Day-old chicks are placed on a slatted surface where they have direct access to feed and water. As birds grow the difference between feeding and drinking levels gradually increases so the birds learn to jump to different levels and perches. Hens reared in the Jump Start have had excellent training and will find their way in any aviary house.
The unique porch system incorporates winchable feed and drink lines, and hingeable platforms. This makes the Jump Start a very flexible system, with strong features:
good visual overview;
easy to operate;
robust construction;
quick and easy cleaning;
perfectly trained birds.
Product Videos
1 video
Related categories Aviary JUMP START
1 Category
Aviaries for rearing future laying hens
Other products of VENCOMATIC IBÉRICA
20 productos
VENCOMATIC IBÉRICA

Vencomatic es fabricante mundial de soluciones de alojamiento innovadoras y respetuosas del bienestar de los animales para el sector avícola. Las numerosas posibilidades ofrecidas por las soluciones flexibles y 'llave en mano' de Vencomatic son aplicables a una amplia gama de conceptos en la avicultura. Ponemos nuestros conocimientos y experiencia profesional al servicio de los avicultores para permitirles obtener los mejores resultados y los más altos rendimientos.
Desde su fundación en 1983, Vencomatic ha destacado como empresa innovadora del sector avícola. La empresa desarrolla, produce y comercializa una amplia gama de sistemas avícolas. Gracias a nuestra larga experiencia en la construcción de sistemas alternativos de alojamiento y recolección de huevos, la flexibilidad de nuestra organización y la dedicación de nuestra plantilla, Vencomatic es capaz de ofrecer soluciones completas y sólidas adaptadas a cada situación. También realizamos proyectos 'llave en mano'.
La sede de Vencomatic...
See company
Price and product availability