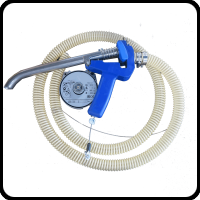 The Lung Gun is designed to effectively remove lungs and other small residual tissues by means of vacuum.


It is used at a working station of an evisceration trough, alongside other tools to semi-automate the evisceration process


Suitable for broilers;


Pneumatically operated, which ensures a smooth operation;


Including balancer and flexible tube for vacuum installation;


Excluding vacuum installation.


Related categories Lung Removal Gun
1 Category
3-.Evisceration and chilling
Other products of Dutch Poultry Technology
32 productos
Product Website
http://www.dutch-poultry-tech.com/shop/hand-tools/lung-gun/
Dutch Poultry Technology

DUTCH POULTRY TECHNOLOGY B.V. is a Dutch manufacturing and engineering company specialized in the design, manufacturing and installation of cost-effective, reliable, easy to install and operate poultry processing solutions for processing 500 – 6000 birds per hour.
Our semi- and full automatic processing solutions are based on proven technology and 30+ years of automatic processing experience. Lean engineering and manufacturing greatly reduce production, installation and operation costs.
See company
Price and product availability