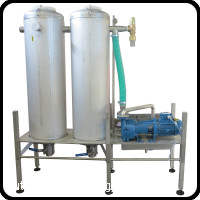 The Vacuum Transport system for handling and transporting inedible offal waste like blood and lungs


The system can be connected to a bleeding trough, automatic final inspection machine or semi-automatic vent cutting or lung pistols


The setup consists of a vacuum pump, buffer tank and offal collection tank(s), water tank and control unit


All components are mounted on a skid


Scope of supply is a vacuum offal transport system for lungs and blood consisting of a 2.5 kW OR 7.5 kW vacuum pump, water tank, 650 L stainless steel buffer tank and 650 L stainless steel collection tank and control panel mounted on a skid.


Product Videos
1 video
Related categories Vacuum Offal System
1 Category
3-.Evisceration and chilling
Related Products
1 Product
Other products of Dutch Poultry Technology
1 producto
Product Website
http://www.dutch-poultry-tech.com/shop/by-product-offal-handling/vacuum-offal-transport/
Dutch Poultry Technology

DUTCH POULTRY TECHNOLOGY B.V. is a Dutch manufacturing and engineering company specialized in the design, manufacturing and installation of cost-effective, reliable, easy to install and operate poultry processing solutions for processing 500 – 6000 birds per hour.
Our semi- and full automatic processing solutions are based on proven technology and 30+ years of automatic processing experience. Lean engineering and manufacturing greatly reduce production, installation and operation costs.
See company
Price and product availability