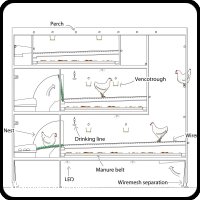 Managing aviary birds is easier than you think
The Bolegg Gallery is Vencomatics new multi-tier aviary system for layers that combines user friendliness with a clever and economic design. While birds can follow their natural behaviour resulting in optimal laying performance, it allows you to collect eggs in an efficient way, preserving the quality after lay.
At the heart of the Bolegg Gallery you'll find the Vencomatic laying nest. This nest is based on Vencomatic innovations, such as the
Vencomat
, the
tipping floor
and the
egg belt
and can be extended with the
Vencobelt
and
Vencoslat
. Innovations that make the difference ensuring outstanding egg quality. The design of the Vencomat ensures minimum contact with the eggs. With the perfect angle of the nest eggs gently roll away directly after lay protecting them from damage by the birds. All 3 tiers of the Bolegg Gallery are equipped with egg belts, enabling automatic collection of all eggs. A tipping floor closing mechanism prevents littering the nest at night and allows dirt and dust to fall off easily when closing the nest. The system offers an hygienic environment through the combination of the nest and the wiremesh floor.
By making use of vertical space the Bolegg Gallery increases the number of birds per m2 floor area. Its open structure allows easy inspection, winchable back walls allow nest inspection and the tree-concept offers a good overview and access to all levels. This design combined with easy operation makes the Bolegg Gallery an easy to manage system.
Product Catalog

Product Videos
1 video
Related categories Aviary BOLEGG GALLERY
1 Category
Aviaries for laying hens (in production)
Other products of VENCOMATIC IBÉRICA
20 productos
VENCOMATIC IBÉRICA

Vencomatic es fabricante mundial de soluciones de alojamiento innovadoras y respetuosas del bienestar de los animales para el sector avícola. Las numerosas posibilidades ofrecidas por las soluciones flexibles y 'llave en mano' de Vencomatic son aplicables a una amplia gama de conceptos en la avicultura. Ponemos nuestros conocimientos y experiencia profesional al servicio de los avicultores para permitirles obtener los mejores resultados y los más altos rendimientos.
Desde su fundación en 1983, Vencomatic ha destacado como empresa innovadora del sector avícola. La empresa desarrolla, produce y comercializa una amplia gama de sistemas avícolas. Gracias a nuestra larga experiencia en la construcción de sistemas alternativos de alojamiento y recolección de huevos, la flexibilidad de nuestra organización y la dedicación de nuestra plantilla, Vencomatic es capaz de ofrecer soluciones completas y sólidas adaptadas a cada situación. También realizamos proyectos 'llave en mano'.
La sede de Vencomatic...
See company
Price and product availability