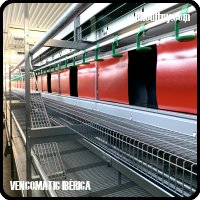 Managing aviary birds is easier than you think
The Bolegg Gallery is Vencomatics new multi-tier aviary system for layers that combines user friendliness with a clever and economic design. While birds can follow their natural behaviour resulting in optimal laying performance, it allows you to collect eggs in an efficient way, preserving the quality after lay.
At the heart of the Bolegg Gallery you'll find the Vencomatic laying nest. This nest is based on Vencomatic innovations, such as the
Vencomat
, the
tipping floor
and the
egg belt
and can be extended with the
Vencobelt
and
Vencoslat
. Innovations that make the difference ensuring outstanding egg quality. The design of the Vencomat ensures minimum contact with the eggs. With the perfect angle of the nest eggs gently roll away directly after lay protecting them from damage by the birds. All 3 tiers of the Bolegg Gallery are equipped with egg belts, enabling automatic collection of all eggs. A tipping floor closing mechanism prevents littering the nest at night and allows dirt and dust to fall off easily when closing the nest. The system offers an hygienic environment through the combination of the nest and the wiremesh floor.
By making use of vertical space the Bolegg Gallery increases the number of birds per m2 floor area. Its open structure allows easy inspection, winchable back walls allow nest inspection and the tree-concept offers a good overview and access to all levels. This design combined with easy operation makes the Bolegg Gallery an easy to manage system.
Product Catalog

Product Videos
1 video
Related categories Aviary BOLEGG GALLERY
1 Category
Aviaries for laying hens (in production)
Related Products
1 Product
Other products of VENCOMATIC IBÉRICA
1 producto
VENCOMATIC IBÉRICA

En Vencomatic Group llevamos cerca de 40 años desarrollando soluciones innovadoras y respetuosas con el bienestar animal.
Vencomatic Group fue fundado por Cor y Han van de Ven, en Eersel, Países Bajos. Todo empezó en el 1983, con la avanzada innovación de los sistemas de alojamiento de reproductoras ideada por Cor: el primer nido de reproductoras automático. En su momento, fue una idea revolucionaria, por tratarse del primer nidal automático del mercado.
Vencomatic Ibérica apareció después de que Vencomatic Group adquiriera en 2009 a Gura, el fabricante español de nidos para aves de corral. Esta empresa ya acumulaba mucha experiencia desde su fundación en los años 90 y se había convertido en un referente en el mercado español.
Desarrollamos, producimos y comercializamos una amplia gama de sistemas y soluciones para el alojamiento de aves, la manipulación y recogida de huevos, la cría y el control climático de la nave.
Las 4 principales empresas que forman parte de Vencomatic Group...
See company
Price and product availability