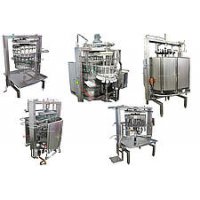 COMPLETE PLANTS and ENTIRE LINES FOR SALE:
We can supply several complete poultry processing lines from stock, Stork, Meyn, Linco, Systemate, Tielemans, Bayle or even of our own production

Capacities in stock:
250 (low scald for 'fresh') to 1000 bph (high scald for 'frozen' sales)
1000 – 3000 bph on-line, stunner, scalder, plucker, manual evisceration
1500 – 3000, 2000 – 4500, 4000 – 6500, 5000 – 8500 bph automatic evisceration lines
6", 8", 12"
Stand alone and flex Cut-up lines (Systemate, Linco, Stork, Tielemans)
And many complete plants from location (1500, 3000, 6000, 8000bph)

Example:
Systemate cut-up line:
brand: Systemate
machine: cut-up line, including leg processor, wing tip cutter, mid joint cutter, whole wing cutter, halving cutter and hock cutter
machine type: 610,063
year manufactured: 1995
pitch: 56 shackles
direction: ccw
units: 6
capacity: 6000bph
machine length: 9000mm
machine width: 1800mm
machine height: 2700mm
weight: 1000kg
installed power per motor: 3 x 400v - 6,95kW
current state: 3
Product Videos
1 video
Related categories Complete plants/lines
1 Category
9-.Microslaughter plants or equipment for "do it yourself" poultry slaugtering
Related Products
1 Product
Other products of USE POULTRY TECH
1 producto
USE POULTRY TECH

USE Poultry Tech is the leading provider of used meat and poultry processing equipment, production lines and whole factories.
USE Poultry Tech BV is a trade organization focused on export within the meat processing industry selling used machines, production lines and whole factories, especially within the poultry industry.
Our company does business worldwide with the most influential producers. USE Poultry Tech is a young (2005), small (20 employees), ambitious and fast growing company (75% growth annually) that is known for its employee involvement, a very dynamic work environment and a 24/7 online marketplace.
We are highly motivated and commercially driven: presentation is everything! Our ambition is to become "the world's leading market place for used meat processing equipment en systems".
Since 1984 we work in the Poultry Processing Industry, or better, work WITH Poultry Processors, on a global level.
First in Northern America and Southern Africa, later Middle- and South...
See company
Price and product availability