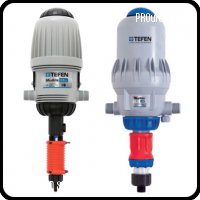 Los dosificadores MixRite de TEFEN para sanidad animal garantizan el control de sobredosis en tratamientos inyectados por medio del agua para beber. Es el método de distribución ideal, desde el primer día del rebaño para todo tipo de animales
(aves, cerdos, reses, conejos, etc.). Los dosificadores de medicamentos proporcionales MixRite permiten dosificar tratamientos en la línea de agua, tales como: Medicamentos, Vacunas, Desinfectantes, Acidificación, Cloro, Aditivos, Vitaminas y Minerales.
La proporcionalidad de los dosificadores MixRite garantiza la dosis correcta, independientemente de las variaciones de las presiones y de los caudales (consumo de los animales).
Características Técnicas:
· El sistema LFR permite el funcionamiento del dosificador desde 7 L/h (0,03 gpm).
· Mezcla con precisión los medicamentos con el agua.
· Rapido y fácil ajuste de la dosis.
· Mantenimiento sencillo.
· Las piezas internas clave son fabricadas con materiales de la más alta calidad disponible.
La unidad comienza a trabajar automáticamente cuando el agua fluye y continúa hasta que el flujo se detiene.
Es posible controlar el funcionamiento de la succión utilizando los modelos con el sistema de Apagado/Encendido.
Product Catalog

Product Videos
1 video
Related categories Dosificadores MixRite
1 Category
Water, dosing systems
Water, treatment and potabilization
Food and Nutrition Technical Assistance
Drinkers
Animal Welfare, equipment for evaluation
Feeders
Vitamin and mineral supplements
Liquid dispensers
Poultry buildings
Clocks
Others
Related Products
1 Product
Other products of ACCESFLUID SL
1 producto
Product Website
https://www.accesfluid.com/catalogo
https://www.accesfluid.com/la-nueva-relacion-tefen-y-accesfluid
ACCESFLUID SL

Una larga trayectoria como especialistas en la conducción de fluidos nos respalda, motiva y posiciona en el mercado español como un serio referente.
Nuestro esfuerzo de años se ha visto reconocido a través de nuestras marcas representadas de prestigio internacional como TEFEN.
TEFEN es un fabricante de renombre que ofrece soluciones a una amplia gama de sectores para tratamientos de agua, higienización y sanidad, ganado, fertilización, etc.
Todos sus productos son duraderos, fáciles de usar, fáciles de mantener y muy flexibles. Además, son respetuosos con el medio ambiente desde 1973.
 
See company
Price and product availability